Matt Griffiths is always at the ready. At the age of 18, he started volunteering with the Red Cross to serve people around his community who were suffering from home fires, flooding and other crises. Immediately he knew he had found his calling, and he hasn't looked back since.
"When you're called to do something, God just kind of puts you where you need to be," he says. "There are a lot of problems in the world and not enough people to help. That's why I want to get involved.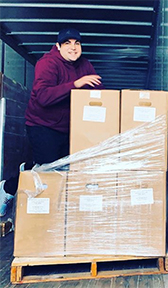 Now 27, Matt has spent nearly 10 years working with the Red Cross, UNICEF and other organizations to care for neighbors near and far — spending about 50% of his time in the field, coordinating emergency efforts. Most recently his work has taken him to serve people suffering from the humanitarian crisis at the U.S./Mexico border, and he's frequently deployed to places where hurricanes, tornadoes, wildfires and other disasters have forced people from their homes.
Matt's "send me" spirit is what drew Matt to become the newest LWR Ambassador.
Recently, Matt was visiting Lutheran World Relief's website and stumbled across the program, which sparked his interest immediately. He has seen LWR's disaster relief work in action while visiting other countries, and he's been longing for a way to be more directly connected.
"I'm so excited because there are lots of people who want to get involved in helping others, but don't know where to start," he explains. "The [LWR Ambassadors] program is a great way to introduce people to what's happening and how they can support it, without having to go to the field themselves."
A longtime member of Immanuel Lutheran Church in his hometown of Broken Arrow, Okla., he looks forward to sharing stories of this important, lifesaving work with his congregation and community and spurring them to put God's love into action to make a difference.
Thanks, Matt, for so faithfully following your calling!
Does someone in your congregation have a passion for God's people and an eagerness to serve – a young adult eager to make a difference? A longtime quilter who loves LWR? They (or you!) might be called to be an LWR Ambassador — a special member of our team who connects local churches to LWR's work to share God's love with neighbors in need.
Learn more at lwr.org/ambassador.