Quilts have played a major part of Lutheran World Relief's mission since our founding in 1945. That means, for over 70 years, quilters across the country have lovingly stitched thousands upon thousands of quilts for distribution as part of LWR's many projects. Their quilts have traveled all over the world, from Peru to India to Tanzania, providing warmth and comfort to millions of families.

Typically, quilting groups amass their labors of love once a year at Ingatherings, where their quilts join other quilts and Kits of Care in shipping containers sent to one of LWR's warehouses. Here, they are processed and stored until distribution. But before sending quilts to LWR, many congregations will hold a "Blessing of the Quilts," displaying their members' hard work throughout the sanctuary and blessing the quilts as part of the worship service. We're thrilled to see the overwhelming support quilting groups give to LWR and receive from their congregations - your hard work really does make a difference! Throughout the Fall Ingathering season, we will be sharing your photos from quilt blessings, both to say a huge "thank you!" for your generosity and to give you a chance to see what quilters just like you are doing many states away.
September 10, 2017
First Lutheran Church (DeKalb, IL) combined their quilt blessing with God's Work, Our Hands Sunday. The quilts of First Lutheran Church (West Allis, WI) brought pops of blue and purple into their sanctuary.
September 17, 2017
Quilts covered every pew of Grace Lutheran Church (Dodgeville, WI) and Prince of Peace Lutheran Church (Des Moines, IA). 
September 24, 2017
At Our Savior's Lutheran Church (Rockford, IL), over 270 quilts were blessed! Trinity Lutheran Church and School (Reed City, MI) assembled and blessed quilts for Lutheran Women's Missionary League Sunday. Lutheran Church of the Resurrection (Cincinnati, OH) and Peace Lutheran Church (Beavercreek, OH) proudly displayed their quilts on each seat. Quilts hung from the rafters at Immanuel Lutheran Church of Evanston (Evanston, IL), Abiding Christ Lutheran Church (Fairborn, OH), First Lutheran Church (Bellefontaine, OH) and St. John Lutheran Church (Alma, KS). The quilters of Hope Lutheran Church (Rockford, MI) posed in front of their 100 quilts, living up to their motto, "Spreading God's Love and Care on quilt at a time!"
September 26, 2017
St. Paul's Lutheran Church (Medford, WI) blessed 105 quilts at their weekly Community Quilt Work Day. They've already boxed up the quilts and taken them to their local Ingathering!
October 1, 2017
This year, the quilters of Gloria Dei Lutheran Church (Wichita, KS) and Madison Christian Community (Madison, WI) completed a combined 225 quilts!  At Shepherd of the Valley (Sandyville, OH) and Emmanuel Lutheran Church (Coshocton, OH), the quilts were proudly displayed at the front of each sanctuary, while the quilters at Saint Peter Lutheran Church (Battle Creek, MI) assisted their pastor in laying hands on their quilts. The hard work of the quilters of Immanuel Lutheran Church (Ellsworth, KS) was spread throughout the church. Each pew at Our Redeemer Lutheran Church (Washington, MI), Long Lake Lutheran Church (Sarona, WI) St. Paul Lutheran Church (Sterling, IL) and St. Paul's Lutheran Church (Oklahoma City, OK) had multiple quilts. Over 175 quilts were blessed at Christ the Redeemer Lutheran Church (Tulsa, OK), while worshipers sat against the many quilts made by Christ the Servant Lutheran Church (Vadnais Heights, MN) and Trinity Lutheran Church (Villa Park, IL). 100 quilts lined the pews of Zion Lutheran Church (Williamsburg, PA).
id="attachment_30848" align="aligncenter" width="450"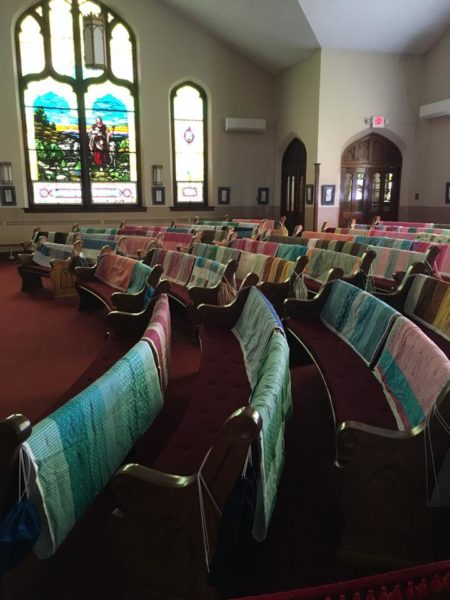 [Photo: Judy Edwards/Zion Lutheran Church)[/caption] 
October 8, 2017
Central Lutheran Church (Mondovi, WI) blessed a year's worth of quilts, and the quilters of Our Savior's Lutheran Church (La Crosse, WI) posed among their quilts. Quilts of every color covered the pews of Olivet Lutheran Church (Sylvania, OH), St. James Lutheran Church (Coopersburg, PA) and Trinity Lutheran Church (Ann Arbor, MI). An abundance of quilts filled Mindoro Lutheran Church (Mindoro, WI) Bethlehem Lutheran Church (Lansing, MI), Lord of Life Lutheran Church (Tabneracle, NJ), Lord of Life Lutheran Church (Canfield, OH) and Immanuel Lutheran Church (Negaunee, MI). The Piecemakers of Prince of Peace Lutheran Church (Mt. Vernon, IL) set a personal record for the number of quilts made this year, and Trinity Evangelical Lutheran Church (Arcadia, OH) blessed over 250 quilts!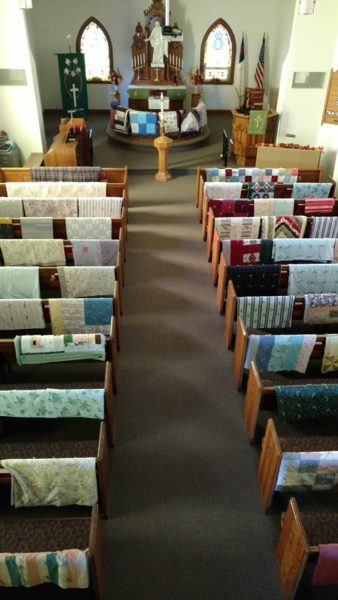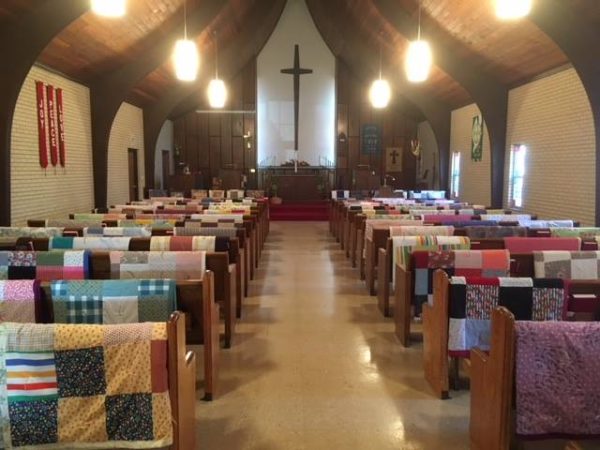 October 15, 2017
Hope Lutheran Church (Westminster, CA), Grace Evangelical Lutheran Church (Fairgrove, MI) and St. James Lutheran Church (Concord, NC) filled their sanctuaries with quilts and color! Quilters from Grace Lutheran Church (Banning, CA) stood alongside their quilts, and Advent Lutheran Church (Morgan Hill, CA) and Mount Olive Lutheran Church (Hickory, NC) blessed a combined 400 quilts! Calvary Lutheran Church (Merrill, WI), Christ the King Lutheran Church (Richmond, VA) and Faith Lutheran Church (Moline, IL) covered every pew with quilts. St. David's Lutheran Church (West Columbia, SC) had their very first quilt blessing!
October 22, 2017
The quilters of Zion Evangelical Lutheran Church (Saddle River, NJ) arranged their quilts a few days before they were blessed. The pews and the altars at All Saints Lutheran Church (Palatine, IL), Trinity Lutheran Church (Manistee, MI) and St. Paul Lutheran Church (Altamont, IL) were covered in quilts. Multiple quilts hung on every pew of Holy Trinity Lutheran Church (Lafayette, IN) and St. Peter Lutheran Church (North Judson, IN). The nave of Lutheran Church of Our Redeemer (Kokomo, IN) was lined with quilts, and quilts at Trinity Lutheran Church (Crown Point, IN) brought even more color to their sanctuary.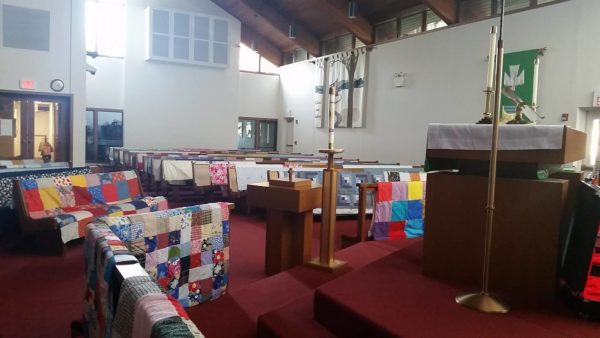 November 5, 2017
Quilt blessings took a pause for congregations to celebrate #Reformation500, but were back in swing on All Saints' Sunday. Quilts covered every pew and chair of Spirit of Hope Lutheran Church (Lincoln, NE), Lutheran Church of the Good Shepherd (Hastings, NE) and Lutheran Church of Framingham (Framingham, MA). The Dorcas Quilters of St. Paul Lutheran Church (Wartburg, TN) showed off just some of the 105 quilts completed this year.
If your congregation held a Blessing of the Quilts in Fall 2017 and would like your photos to be shared on this page, please be sure to tag us on Facebook or email us at news@lwr.org. If you are an LWR Quilter or Kit-maker, we invite you take our Quilt & Kit Ministry Survey and help us continue to improve your experience in supporting Lutheran World Relief!