This post is part of the ongoing LWR Blog series "My first LWR project visit," in which LWR staff making first time field visits are invited to share their insights. We hope you enjoy their perspectives and that it gives you a new point of view of the work you support with Lutheran World Relief.
Have you ever wondered what happens to communities after LWR finishes its work and leaves?
On my first LWR field visit, to Mali, I got the unique opportunity to find out.
I'd spent the first week of my trip helping to plan new projects and visiting ones that were just getting off the ground. It was a pretty intense week, mapping out how we can help pull communities out of poverty for the long-haul.
But on my last day, we visited a community called Segou, where LWR once helped women grow and sell a protein-rich crop called fonio. The project began in 2008 and ended in 2013, but the women invited us to their community so that we could see how they were doing.
Standing Room Only
When we arrived, my team and I walked to a small classroom, where women would fill the room by sitting in every chair and standing in every corner. They were all so eager to tell my colleagues and me about how the investment LWR made in their community paid off and about all the good work they accomplished.
Alimata, the president of this women's association spoke candidly about life in her village. She told us how before LWR came, the community didn't have enough to eat and certainly had no extra crops to sell. This was mostly because making a living from fonio production was just plain hard. The crop isn't hard to grow. It's fairly robust and even grows well in poor soil conditions. But processing it was another matter altogether.
Without any special machinery, it can take a woman up to 15 days to separate and husk just one bag of fonio. You can understand, then, why farmers were reluctant to grow it when LWR first arrived on the scene. The crop had the potential to increase household food security and nutrition, but not if it took all the women's time to process it!
Your Support Changed Everything
Alimata told us that with your help, the women were able to secure machines to separate and husk their fonio. Before, she said, the women would sit on the floor four to five hours – peeling and peeling and peeling – and still only ended up with about a cup of fonio! By contrast, their new machine is so efficient that in a mere 20 minutes, several liters of fonio can be peeled and prepped.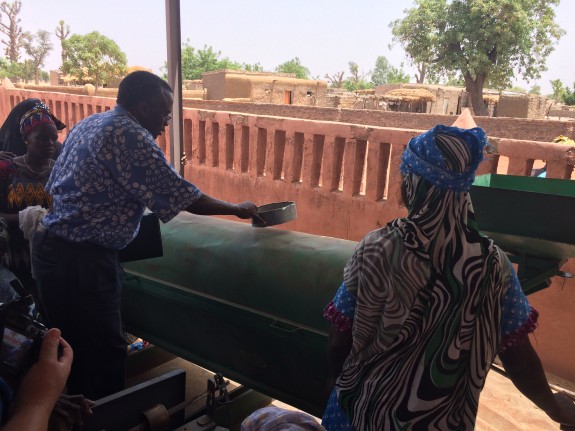 Now, Alimata said, they have enough to eat and sell. But that's not all your support did for them. The women also learned good business practices so they know how to get the best prices for their crops. Because of your investment in these hard-working women, life has completely changed in this community. The women now earn enough to send their children to school or take their children to the doctor. These were things that would have been a great hardship before.
I felt so inspired listening to these women and so grateful to be a part of LWR, but I also want to you to know that life in Segou is not perfect.
Triumphs and Challenges
The women told us that although they now have the means to pay for doctors' visits, the closest hospital is still hours away by donkey cart. One of the peeling machines isn't working as well, and although soon they'll have enough collective savings to replace it, it's difficult to get by in the meantime. The water pump is also broken in the village, so they have to draw water by hand using a series of heavy buckets and pulleys.
It was important to me to share that in recognition that LWR truly does believe in walking with communities in need. Part of that is recognizing that communities have unique knowledge and assets – and that we are there to build on those assets. Your support gives a hand-up, not a hand-out. While the people of Segou still face struggles, it was apparent to me that the women especially are much better equipped now to face and overcome those struggles than they were before.
"Work hard, be patient, and tell others about the work."
Fonio isn't exactly something common you might find at your local grocery store – and you might be wondering, "What does it look like? What does it taste like?" I can speak to that!
Just before we left Segou, Alimata raised her hands, bowed her head slightly and said humbly in Bambara, the local dialect, "I know you must have a lot to do, but I did prepare a little something." She grinned modestly and soon we each had great big, bowls of fonio bathed in rich, bronze, peanut sauce to eat! We all shared one big bowl and took turns using our hands to scrape the warm, sauce drenched grains from the sides of the bowl up to our mouths (I have some of it in my hand in the photo above!). After just a couple handfuls of these tiny round grains, I felt full and grateful.
Just before we were served the delicious fonio, I asked Alimata what advice she would give to women who were starting out a project with LWR as she had done a few years ago. She said "Work hard, be patient and tell others about the work."
More than just the project
It really dawned on me that the big difference in this village didn't just come from the machines LWR purchased – this whole community now has the time and resources to overcome challenges that would have damaged the community before.
I also think about how there were representatives from more than 15 different villages with us in that classroom. While I was driving to this village, these determined women had been walking---or taking a donkey cart if they were lucky — incredible distances to be with us in this classroom and explain how this LWR project helped them change their lives. And it truly had! The village had organized and the membership in the greater farmers' association was spreading, village by village.
It's easy to get overwhelmed at the thought of ending poverty, injustice and human suffering. But this village taught me that starting small builds toward something greater. Your support sent LWR to work with one village, but that village spread the message to so many more.
After visiting these incredible women, I would like to say thank you. Your gifts – big and small – truly make a difference, and multiply!