The Rev. Tim Krick, who works with congregations on behalf of Lutheran World Relief, recently visited some of the communities your compassionate support is reaching in Ukraine. This trip took him just four miles from the Russian border, into towns that were occupied by Russian troops within the last year. Here are some of his observations.
What was it like to visit an active war zone?
Tim: Very surreal. The vast majority of buildings had been damaged, and all around were reminders that the war is ongoing … As we were handing out quilts, the Ukrainian military was clearing mines from some nearby fields, and we heard explosions go off … And then there were the frequent air raid sirens. There is this constant apprehension. And this is their everyday life.
How are the people holding up?
When we talk about serving the most vulnerable, this is as vulnerable as it gets — the people who stayed behind when war broke out. Many are elderly, or they didn't have the resources to go somewhere else. They are often alone. Some of them had their homes occupied or looted. They've lost loved ones. Some were sexually abused during occupation. And there is so much uncertainty. They are adamant that Ukraine will prevail, but they don't know what might happen to them personally.
One young mother at the quilt distribution told us that you live every day with this feeling that you could die at any moment. She's afraid to let her son just go out and run. There are mines and broken glass, and you don't know who you can trust. And so people feel isolated.
The refrain we heard over and over again was, "Thank you for remembering us." Thank you for your prayers. Thank you for providing this food, this place to stay. Thank you for remembering.
What is the best way for people and congregations to help?
Tim: Pray. Pray for an end to the war. Pray that peace prevails. And pray for continued strength, because there is no end in sight. And please continue to give what you can … because you are giving them the most basic resources they need to endure until the war ends. You are giving them the hope they need to continue on.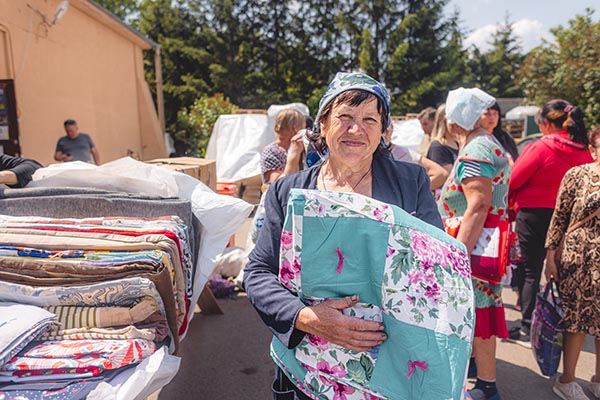 3 ways your love is helping Ukrainians today
Providing hot meals, lodging and art therapy to families in 6 sanatoriums
Comforting displaced families with quilts and kits
Deploying a mobile clinic to provide medical care in hard-hit areas
...and so much more.
Thank you for supporting the largest humanitarian response in LWR history!