I recently had a chance to visit one of our newest projects in Guatemala where we are expanding our regional expertise in cocoa and coffee. The project I went to see focuses on the production and sale of high quality cocoa by small-scale indigenous farmers. It is located in northern Guatemala in a region known as Alta Verapaz or "high true peace."
Compared to many areas of the country, this community has been spared much of the horrifying and widespread violence of the Guatemalan civil war that raged in the '80s and '90s. Outward migration and the gang violence that now plague much of Guatemala have not yet taken hold in most of the rural communities where this project is taking place. So in many ways there is still much hope for a sustainable future for these communities, especially if the youth see opportunities to break the cycle of poverty. And that's just what we are working with our partner, FundaSistemas, to do.
Breathing new life into old cacao trees
Our journey to Cahabon took us up a long, curvy dirt road along lush green mountains, across a river in a small wooden boat, and then a short hike up a hillside of cocoa trees. At the top of that hillside were a dozen teenagers busy grafting healthy varieties of cocoa onto the older trees. They were intensely focused on the task at hand and only briefly looked up with a smile at their visitors. When I approached one of the teenagers – Shirley Marbely Reyul, a 15-year-old from Cohaban – I could see why the intensity.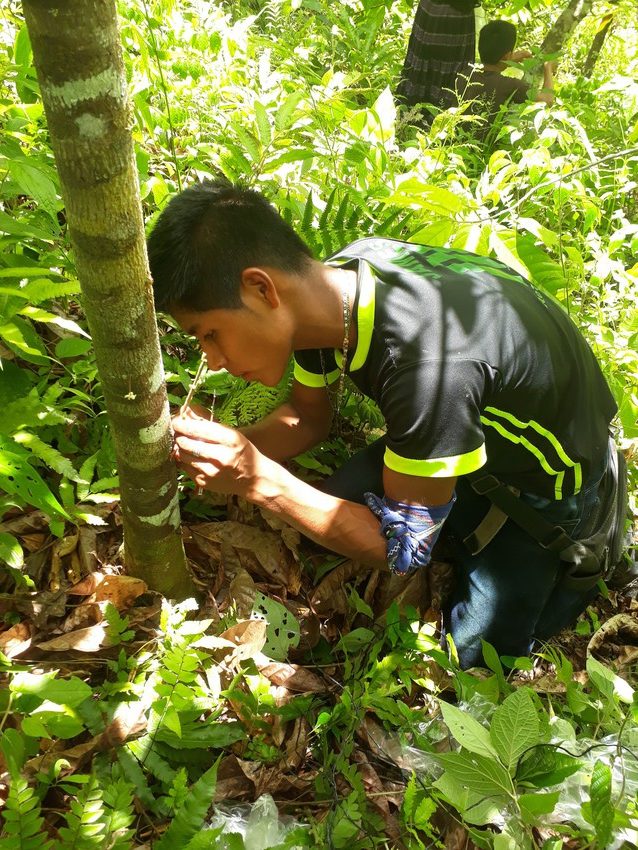 The task requires taking small, thin branches cut from healthy trees and attaching them to low yielding trees by carving a small slice in the bark of the old tree into which the new branch is carefully slid. Shirley then carefully wrapped what looked like plastic wrap around the grafted branch to protect it from heavy rain. She would remove the plastic wrap in the next 15-20 days once the branch was well affixed to the tree. If all goes well, that little branch will quickly grow and produce many more cocoa flowers and pods then the older host tree — and in much less time than planting a sapling. Shirley walked to the next tree where she continued her painstaking work, as did her peers around her.
Connecting youth to opportunities
When FundaSistemas first approached Cahabon about the project, they initially didn't anticipate they would get a lot of ierest in cocoa training from the youth. So they were surprised when more than double the expected number of teenagers in Cahabon and the other communities signed up for the training program. I asked Shirley why she wanted to learn about cocoa and she said she knew it would help her parents and also she hoped that with more money on the farm, she could continue her studies. The teenagers in the cocoa field that morning were heading to their high school classes, which start after lunch in Cahabon, so the training in cocoa is an extracurricular activity for them. But after high school there are limited opportunities for more schooling, and in ntmany other communities, high school isn't even an option.
Just as Shirley talked about helping her parents, the adults in Cahabon said they saw the training as important because they want to invest in their children and in their community's future. In many ways, just as with the care and hope given to that small branch grafted onto the older tree, the cocoa training program also seeks to cultivate youth who will grow hope and prosperity for their communities in Alta Verapaz, Guatemala.