Here at LWR headquarters in Baltimore, we occasionally get a visit from our partner staff from the field and when they do very often we'll have a "brownbag" information session during lunchtime. For those of us who work mostly out of our Baltimore offices this is a real treat and a chance to connect our daily work to the impact LWR is making around the world.
Recently Richard Aparco, an agronomist working with our projects in Peru, stopped by for a visit. He works with our partner organization, the Center for Integrated Community Development (CEDINCO), which works in the Andean highlands to improve the health and nutrition of farm families by increasing the production and productivity of native potato varieties.
It is obvious from listening to Richard that he loves his work. He has a bright smile as he recounts his efforts to help farm families, traveling around the community in the rugged, mountainous region on his motorcycle.
The work has been difficult, and not without obstacles. For example, he recounted his frustration at not being able to convince the government-run health clinics that parasites were a real problem in the community. Health officials estimated only 1 or 2 percent of the community suffered from water-borne illnesses and parasites. By conducting his own testing, going from house to house to collect stool test samples, Richard was able to demonstrate that 98 percent of the people in the community were infected with parasites, spurring the government to provide treatment.
But the good news he brought is that the impact of the project has been dramatic. The project is focusing on improving food security and nutrition for 180 farmers of 150 children under age five in eight communities in the Andean highlands province of Castrovirreyna. So far, farmers have seen a fourfold increase potato production per acre as the result of improvements in seed selection, fertilization and other agricultural techniques, going from harvesting 1 ton per acre to 4 tons per acre.
Farmers are now growing enough to feed their families and to produce a surplus, which they are selling for additional income so they can buy nutritious food. In fact, farmers from the project were able to sell 12 tons of potatoes in the export market from the last harvest.
Farm families are also learning about better household hygiene. They received hygiene kits and building shelving to keep the items clean and off the floor.
But Richard saved the best for last. He brought us some greetings and messages from the community, including two people with whom we were well familiar.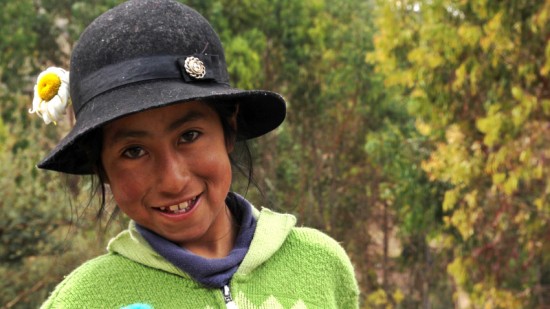 He brought us an update on Daisy, a charming girl with an infectious smile, who was featured in the LWR video "Lasting Solutions to Hunger in Peru: Meet Daisy." Her big news is that she recently graduated from elementary school!
Richard also shared the story of a farmer named Pedro, a farmer living in the highest, most isolated area of the highlands. He's also almost completely deaf.  When he heard that Richard would be traveling to the United States, asked him to bring a message.  He wanted to make sure we knew how the project was helping him and his family.
"He said, 'Tell them, Thank you for the support and for supporting the organizations working in our community,'" Richard said, recounting his words, "'because they are helping families where the government doesn't.'"
It is through your support of LWR that we maintain a connection to people like Daisy, Pedro and their families. You are making a difference in their lives by making possible lasting change.
Here are a few more photos Richard shared of the great work you support with your gifts.