On April 25, 2015 when a massive earthquake struck Nepal, Rekha Dhakal was travelling on a bus from the capital city of Kathmandu to his home in Jaubari VDC in Ghorka District, a distance of about 100 miles over a winding, mountainous road.
The bus began to shake, and the driver stopped driving. Rekha knew that his wife and 86-year-old mother were at home at the time, and as he felt the violent shaking of the ground, he grew increasingly concerned about his family. When the bus did not continue its journey after the quake, so Rekha began walking home. He passed by collapsed houses and people outside everywhere, crying and asking for help.
It took several hours for Rekha to get home and when he did he found that, thankfully, his wife and mother were both safe. But their house was completely destroyed.
Delivering Gratitude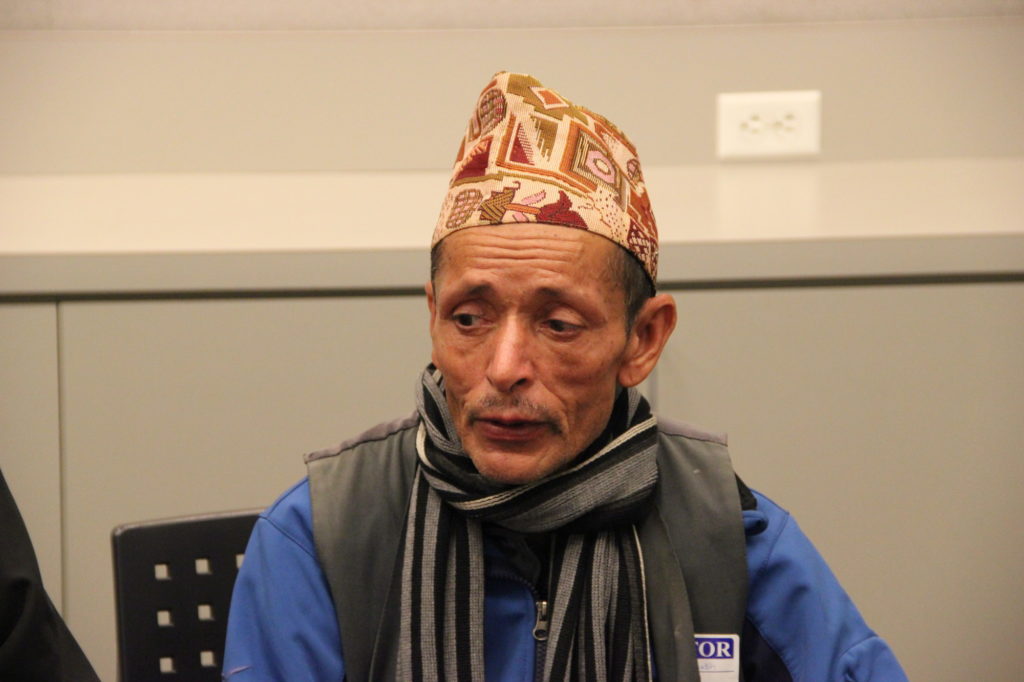 I recently had the pleasure of meeting Rekha when he visited LWR Headquarters office in Baltimore. You can imagine we don't get too many Nepali earthquake survivors stopping by in Baltimore, so this was a real treat! Rekha was in town to visit his daughter Ranjaja, and he came to the LWR office to say thank you in person for our help after the earthquake. It was an honor to meet him, learn about his family and hear his story. We spoke through a translator: Rekha's daughter Ranjaja, who speaks English. Although I could not understand his words on my own, I could tell that he was grateful for LWR's support and grateful for people like you who make our work possible.
Relief After the Earthquake
Fifteen days after the earthquake, LWR distributed food packs, water filtration units, Personal Care Kits, Quilts, seeds for the recovery of agricultural livelihoods and temporary shelter materials to the affected families most in need. Rekha and his family received food packs, clean water and temporary shelter materials from LWR. With the corrugated galvanized iron sheets and other materials provided, Rekha built a temporary home for protection from the monsoon rains.
LWR also implemented cash-for-work activities in the Ghorka district after the earthquake to help families earn much-needed income. Rekha participated in these activities and received cash for clearing the roads with other families in Ghorka in an effort to help the area quickly recover. He mentioned that he was especially grateful for this work and extra income as it brought him hope after he had recently lost everything.
The Road to Recovery
Nearly a year and a half after the earthquake, Rekha is still living in the temporary shelter made of materials distributed by LWR. The Government of Nepal is distributing grants to many who lost their homes in the earthquake, and Rekha will be receiving a grant of 200,000 Nepalese rupees (about $1,860)  to rebuild his house. He is grateful for the contribution, but the process of receiving the grant is long, and the amount will not be enough to cover all of the construction costs. As he continues down the road of recovery, he has hope that one day he'll be able to finish building his family's new home.